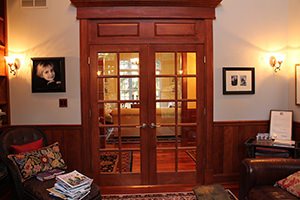 Trim and custom molding is what sets the architectural features of your home such as windows and doors apart. Installing molding can add contrast to these areas or it can serve as an add-on to make the features even more luxurious. Whether you are building a new home or renovating your home in Rolla, St. Louis, Springfield, Branson, Columbia, Poplar Bluff, Cape Girardeau, Jonesboro, or any of the surrounding areas in Missouri or Arkansas, your property is not truly finished until the molding is set in place.
Durable, high quality wood with luxurious profiles and eye-catching finishes can have a substantial impact on the design of your home. Therefore, it is important to find the best. This is where Jadwin Millwork comes into play.
All of our custom molding is made using only high-quality lumber that is milled right here in Missouri. Our woodworking machines are second-to-none and we top it off with some of the most elite customer service in our industry. Every order is delivered on time, exactly to spec, and best of all the custom molding ends up being some of the finest manufactured wood you have ever seen.
If you would like to speak to a custom millwork expert to request a quote or place your order, contact Jadwin Millwork today at 573-729-2007 or through our online contact form.
Custom Molding Products to Suit Any Taste
We can manufacture all types of custom molding in a virtually limitless range of styles and designs. Products include base, case, crown, and chair rail moldings. We also make stair parts, flooring components, paneling, and cabinet parts.
When purchasing custom molding for your home or business project from Jadwin Millwork, the features and style is 100% customizable. While we do offer a catalog of molding styles that you pick from, we also manufacture custom parts to any design that fits your exact needs and tastes. Since we mill all of our moldings in our local mill near Rolla, when you buy from Jadwin Millwork, you can customize the wood species, profile, and finish of your custom molding.
Within these three main choices are dozens if not hundreds of different options available for a truly customized finish look.
Wood Species
Our mill sources only locally supplied NHLA inspected lumber, and we have a wide variety of wood species available to us. You can choose dark to light color shades as well as select how prominent the grain patterns are in your custom molding.  A few of the wood types available for your custom molding include:
White Oak
Red Oak
Poplar
Radiata Pine
Maple
Knotty Alder
Cherry
Hickory
Walnut
Profile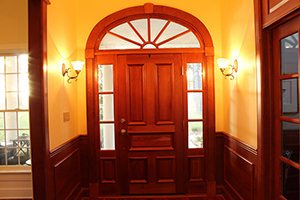 In new home builds, finding the right custom molding profile from our catalog simply depends on multiple parties coming together to agree upon an elegant design. Retrofits, additions, and restorations, however, are where the true benefits of our custom capabilities really shine. We can manufacture trim profiles to match any existing design, which is great for historical restoration or meshing rooms together on an addition. Therefore, our trim profile options are virtually limitless.
Finish
Another detail to consider on your custom molding project is finish. Do you want a reflective gloss that reflects natural light and brightens up a room or would you like a subtler finish that emphasizes the natural beauty of whatever wood species you choose? Having these options available is just one more way to ensure that your construction project is truly customized.
Place an Order for Your Custom Molding Project
To speak to a custom millwork specialist near Rolla, Missouri to design your custom trim or molding or for a quote for your project, give us a call at 573-729-2007 or send us an email through our contact form.